Please visit the Workshop website for a detailed programme.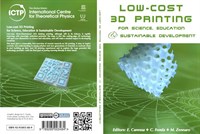 Free downloadable book on low-cost 3D printing
Get information about the mission and the projects of the ICTP Science Dissemination Unit. Go to the SDU web page.


New, low-cost, three-dimensional printing technologies are providing exciting opportunities for research, education and humanitarian projects for the developing world. Using digital models, the 3D printers create or replicate solid objects out of plastic. The purpose of this workshop was to discuss and create awareness on the new 3D printing options through demonstrations of a number of available competing technologies, as well as presentations of ongoing research into new applications. Special focus was given to the applicability of 3D printing to promote appropriate technology for sustainable development, scientific research and education.
The SDU has the broad aim of disseminating ICTP scientific contents and programmes throughout the world using low–cost, state–of–the–art information and communication tools to bridge the digital and knowledge divide in Developing Countries.